I have returned following my extended hiatus, which I spent doing grown-up things like
eating pudding for dinner
getting a job. During this time I decided I would like to rate each race, as well as writing a recap. The MDI Marathon sort of showed me how mediocre Sleeping Bear was by giving me something to compare it to. With that in mind, I feel I can better provide some insight into my races. (I'd also like to note other bloggers came up with race ratings long before me, though I did write my own criteria list.) Without further ado, an even less witty than normal post:
Race:
Sleeping Bear Marathon
Date:
October 6, 2013
Location:
Empire, MI
Year Running:
2nd
Registration:
$75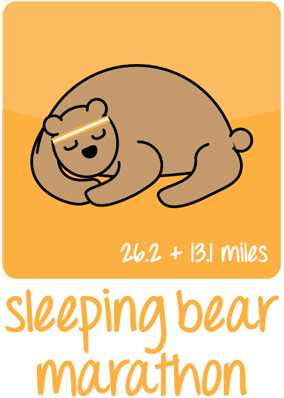 Race Information
Size: 112 full, 244 half
Course Limit: 6 hours
Min. - Max. Elevation: 600 - 825 ft
Min. - Max. Temperature: 41 - 60
Travel
Airports: I'm not actually familiar with any airport in Michigan but Detroit. An ITA Matrix search shows Muskegon (MKG), Grand Rapids (GRR), and Kalamazoo (AZO) are all options. Honestly, though, flying into Detroit (DTW) and renting a car is probably the cheapest option.
I think this is what non-DTW flights are like, though I'm not sure.
Rental car: 100% necessary if you're flying in.
Host hotel: None. This is one area where the race could really improve. We were able to stay in the area, but the cheapest option was $120+ a night. (We ended up paying even more to get a place with late check-out.) Hotels are cheaper in Traverse City, but then you'll be 30+ minutes away from the race. If the Race Directors could get even one place to offer a race rate, it would be fantastic.
Pre-Race
Communications: Great. They were especially on the ball when we wondered if the government shutdown would affect the race (it wouldn't). They sent out an official Athlete Guide about a week before.
Expo: This was held in the Empire Town Hall. Packet pick-up was one table without a line. The Race Directors had another table with some fuel options and race-branded gear.
Other Activities: The local church served a pasta dinner at the expo. Almost no one took advantage of it (even though it was competitively priced). It was good for a meal, but not necessarily for meeting other runners, which was too bad.
Race Day
Parking: In a large field a 1/4 mile from the start. There was ample parking for the marathoners, but I'm not sure how they accommodated all the halfers.
Shuttles: None. The walk was an easy 1/4 mile with volunteers directing us.
Bathrooms: Several. We waited in line for less than five minutes with less than 15 minutes to the start.
On Time: Exactly on time, according to my Garmin.
Corrals: None, but not needed. There weren't many people, and there was ample space in the beginning for everyone to get into the appropriate spot after the start.
Course
Type: Out-and-back
Terrain: 92% concrete, 8% dirt (non-technical road); a few hills at the beginning and end
Bathrooms: Approximately every two miles, limited opportunities to use the woods
Crowding: None
Highlights: Fall colors, dunes, Lake Michigan, Glen Arbor. Unfortunately, the leaves had barely changed. I think having the race one or even two weeks later would make a significant difference in how scenic the course is, which is one of the major goals of the Race Directors. I can't think of any reasons why this wouldn't be possible. The views of the dunes and the lake were really fleeting, and most of the people in Glen Arbor didn't really realize we were participating in a race. This race has all the pieces to be really scenic and great, but it doesn't quite put them all together.
This is what the scenery could potentially look like.
Support
Course Support: Aid stations approximately every two miles. You went by each one twice, though the volunteers tried to come to the side of the road most runners were on. The only real bummer was the fact that miles 11 and 14 shared an aid station, so the longest gap without an aid station included the halfway point. Not having an aid station there was pretty hard mentally. Each station had water and clear Heed (side note: Who invented this?!). A few also had Powergels.
Spectators: Virtually none unless someone had family/friends leap-frogging them on the course. The positive side is if you wanted someone to come cheer you on, they could meet you anywhere as many times as you wanted.
Local knowledge of race: Virtually none. There's not many year-round residents, but I didn't see signs in either Empire or Glen Arbor advertising the race. No one treated us like a nuisance, but we were spread out enough from each other that non-runners really had no clue we were in a race. This was especially tricky when traffic picked up in Glen Arbor.
Post-Race
Food: There was a magical tub of water with sliced apples. There was also hot cocoa, but I only knew it was there when I heard someone else ask for it. There were a few other things, except I was so busy being cold I didn't notice what else there was.
Atmosphere: Mellow (and that's being kind). The music at the finish line was almost like a lullaby. After a volunteer gave you your medal, you were set to drift. No one was even really cheering at the finish line.
Party: Apparently they had one the week after(??), though I never heard any more details. Since almost everyone traveled a not insignificant distance to get there, I'm not sure what the point was.
Swag
Shirt: Gender-specific, long-sleeve technical tee. Not race specific. Extremely sheer to the point I absolutely must wear at least a cami underneath.
Medal: Good quality weight and shine. Race-specific ribbons (though they ran out of half ribbons and gave them full ribbons. Apparently they sent out new ribbons fairly quickly.) The logo is the cutest thing ever.
Don't use my hand as a size reference. It is literally the size of a child's.
Soft-sided Backpack: I really like the bright orange, especially for future bag drops. It's a bit too small to use as a swim bag or for my laptop, but it's still a decent size. Again, I love the cute bear.
Final Thoughts
The Race Directors are experienced and know what it takes to put on a race. While I do have complaints about the race, nothing was dangerous or even particularly awful.

Getting a host hotel discount would help an affordable race be even more affordable. This would be a great race for streakers or even people who like going Up North in the fall.

Moving the race back a couple weeks would really improve the scenic value.

Add an aid station somewhere around the halfway point. And for the love of God, serve something that is not Heed.

Put up some signs advertising that a race was happening in Glen Arbor and maybe even along the course.

Play some pump-up music at the finish, and encourage volunteers to cheer.
Recommendation
50 Staters: No, Michigan has tons of other options. I'm guessing one of them would be better
Non 50 Staters: Maybe, if you're close or can easily afford the travel. The National Lakeshore wouldn't be very crowded, and the weather would probably be nice enough to turn this into a mini-vacation.