So I dropped off the blog world for awhile. Oops.
I just had some Real Life stuff to deal with, so I took advantage of taper to get things done. In the end, I neglected a few workouts, but I felt much less stressed and overwhelmed. There's no way I could've done that before my injury, so I'm glad to see the lessons I learned during my off time actually stuck for once.
I have a few posts I want to get written before I leave for Myrtle Beach (three days!!), so hopefully I will have more to say this week. Before, you know, spending no time on my computer to maximize my time in the sun. I'm so sick of the cold and all this snow, it is unreal.
I'm a little bummed Sunday is only supposed to be 39, but that's 30 degrees warmer than the real feel temp yesterday.... (But it is hilarious to watch the Southern runners freaking out about what to wear on race day with a high of 50. Apparently that is freezing.)
Anyway, let's look back on the last two weeks of taper. They haven't been nearly as horrendous as I thought.
Monday, January 26
1350 yd swim
This was a repeat of a ladder swim I did a few weeks ago. It was still hard, but I felt much stronger and more confident than before. I'm surprised how much my swimming has improved on just two days a week.
Tuesday, January 27
lunch - lift
PM - 7 mi easy
There was a guy wandering around the weight area without shoes on. (He did have socks on, thank God.) Apparently he does this because he has a bad back. To each their own, but he then started doing what I can describe as proselytizing, trying to convince other dudes to take their shoes off. How about we remember we're all adults and should therefore wear shoes in public.
Even these are better than nothing!
Wednesday, January 28
1350 yd swim
Thursday, January 29
lunch - lift
PM - 3 mi easy
I was supposed to do a seven mile tempo run, but the winds were totally ferocious, so I called it a day at three miles. When I retraced my route home, my footprints about a mile back had already been obliterated by the drifts. It sucked.
Friday, January 30
rest
Saturday, January 31
13 mi long (10:55 min/mile)
I did this run at MP+2, and I felt great at the end. I was a little bored (there is only one path in the whole town plowed, so I've just been running laps on it), but I felt strong. I know the second 13 miles of a marathon feel much longer than the first, but the fact I was able to have a quick snack and carry on with my day is a good sign.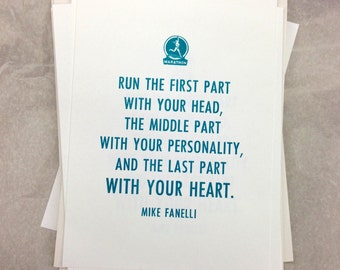 Try to run the whole thing with your ego and see how long it takes to bonk!
Sunday, February 1
rest
Run Miles:
23.2
Swim Miles:
1.5
Lifting Time:
41 mins
Total Time:
6:08
Monday, February 2
750 yd swim
Tuesday, February 3
6.5 mi easy
I almost skipped this run because it was snowing, but it was relatively warm, and the falling snow was incredibly quiet and peaceful. The accumulation got a little much to run through by the end, but the first miles made up for it. Still done with snow though.
Wednesday, February 4
750 yd swim
It felt weird hopping the pool for the last time for a couple weeks. Weird, but nice.
Thursday, February 5
rest
It was bitterly bitterly cold, and I was feeling overwhelmed by life stuff, so I skipped my run to do other productive things. I set an alarm for the time my run would take, and I got a lot accomplished in that window. Plus I could feel my face the whole time. Bonus.
Friday, February 6
rest
Saturday, February 7
rest
I went to East Lansing for the MSU/Illinois game with my parents and had a blast. (Even though we lost.)
Sunday, February 8
rest
I was supposed to do one final long run, but as I was getting my running clothes on, it started snowing. We ended up getting four or five inches (not in the forecast at all), so I wimped out. Lazy, maybe, but I'm just so burnt out on this weather. I'm sure I'll come back refocused after some warm South Carolina days.
Run Miles:
6.5
Swim Miles:
.9
Total Time:
2:03
I know I've mentioned it in other posts, but I've never had a true taper before. I've always been sick and/or injured in the two weeks leading up to a race, so I've always just been off running entirely. I expected taper to be harder than it is. It's certainly not the most fun thing ever, but I have other things I need and want to do outside running (gasp of horror), and combined with this horrible weather, it's been good to step back a bit. Plus, knowing I could run more if I chose makes it all the more bearable.
And the best part is I don't even feel guilty or mad at myself about it! I'm finally make the best choices for me, rather than just slavishly following a training plan. I am a tiny bit concerned that I'm sliding down a slippery slope of skipping workouts, but I'm sure a break from the winter blahs will be a good cure-all.
And only 38 days until glorious, glorious spring arrives!